 Edison Battery Oil Bottles


The EDISON BATTERY OIL bottles are cylindrical-shaped bottles made of clear glass that have the signature of "Thomas A. Edison" in cursive. They were used by railroads in battery operated crossing guards; after refilling the containers in the batteries, the workers would frequently just toss the bottles which is why most are found near railroad crossings.
In 1911 Edison changed the name from "Edison Manufacturing Company" to "Thomas A. Edison Inc."
Bottles newer than 1915 say Bloomfield NJ instead of Orange NJ. There was a fire in Orange and the operation moved to Bloomfield in 1915.
The above info will help you date an example you may have of one of these bottles.
The BLOOMFIELD NJ bottles are pretty common and usually sell in the $1-5 range.
Contact Ed Storey with any questions about Turlington bottles: ecstorey@falconbroadband.net
Ed has also published a list of codes to identify battery oil bottles.
Here's an example of one of these bottles that was sold on eBay: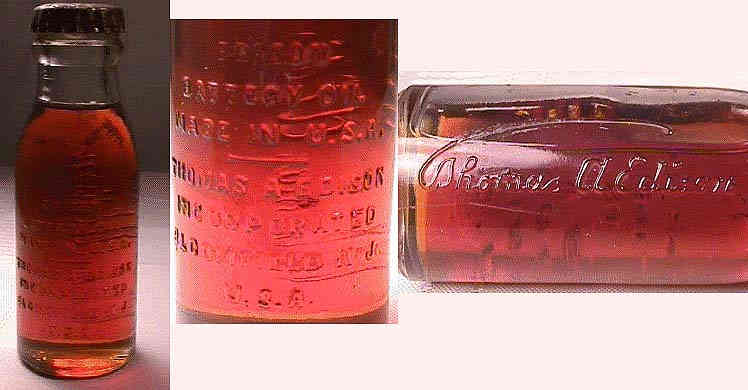 Here's some more info dug up by Ed Faulkner from Sept. 16, 1999 issue of OLD CARS in which 2 readers give all the details:
...Thomas A. Edison Primary Batteries were widely used on railroads to energize track and signal circuits. The battery consisted of a glass jar 6" in diameter and 10" high. Each cell produced 0.8 volt. The elements had to be renewed at various times due to train density and other factors. The new elements consisted of zinc and lead plates, a can of caustic soda, and a small glass of oil. The caustic soda was mixed with water, the elements were suspended in the solution, and the battery oil was added to the top of the solution to prevent evaporation....The earliest patent date is July 23, '08. These batteries were still in use in the mid-60's...O.M. Middleton, Oregon, OH
And Charles Turner of Redfield, Iowa described battery oil as " a pure nonconductive oil that is added to the potassium-based electrolyte in old Edison nickel-iron batteries to reduce water loss due to excessive gassing... These batteries were used with wind generator electric systems because they can be cycled at high rates without damage. Due to their high-charging characteristics, the Edison battery will boil the water out very quickly without a film of oil on the electrolytic fluid"...
---
This web page hosted by Antique Bottle Collectors Haven