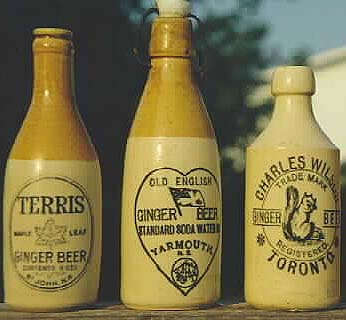 Antique Ginger Beer Bottles

Ginger Beer was stored in Stoneware bottles as far back as the 1830's. Incised "primitives", handthrown by potters to very individualistic standards, were made with little more than the bottler's name, perhaps a city and even a date on the shoulder for identification. Most were just slip glazed, the occasional one had blue glaze on the lip or even down the shoulder.
Come the 1880's, and growing industrialization, the modern, grey glazed bottles with stamped logos started to appear. These more modern, still handthrown but made to much more precise standards, bottles, came with shoulder slips in green, blue, even purple-red! And the stamped designs were just as wonderful...men on bicycles, steam locomotives, moose, black bears, anything to attract the buyer's interest.
Stone ginger beer bottles faded in the 1920's, as the appallingly poor health standards became more obvious. Buyers started questioning the sediments at the bottoms of the bottles and wanted their wares in glassware, and wanted it to look fresh and clean, not just to feel that way when they drank it! As well, refrigeration was becoming more the norm, and the benefit of stoneware for keeping liquids cool just wasn't so necessary anymore. And thus came the superiority of the modern glass pop bottle.
Gingers are usually collected by locale, province, state or other geographical locale. As with every other field of bottle collecting, the rare are not always sought after, the new are typically more valuable than the old (go figure!), and the beautiful, rare ones are very, very dear!
The above info was graciously contributed by bottle expert Phil Culhane, Email: pculhane@magma.ca.
---
Links to other info about antique beer bottles:
---
This web page hosted by Antique Bottle Collectors Haven