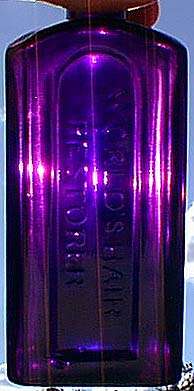 Antique Hair Bottles

Hair bottles include restorers and dyes. Hair bottles are often categorized under "Cosmetic" (e.g. in Kovels') or under "Medicines" (e.g. in Auction Price Report). More than one of these products promised to "cure baldness".
One of the more popular hair bottles is the Ayer's Hair Vigor that comes in cobalt and peacock blue and can often be found with the original stopper. To see a peacock blue example with original stopper and neck label, click here

.
The earlier Ayer hair bottles were aqua and flask-shaped but not very spectacular unless they have the original wrap-around label as in this example

.
---
Below is a "Tebbets Physiological Hair" bottle in dark puce amethyst color and in mint condition:

Here is a W.E.HAGAN&CO.,TROY,N.Y. bottle in sapphire blue with smooth base. William E.Hagan began working with Charles Heimstreet as a clerk in 1848. He later took over the business,as noted in an 1859 ad indicating he was already the proprietor of Heimstreets Inimitable Hair Coloring! The labels on some of the Heimstreet bottles said they contained W.E. Hagan hair coloring,and several years later, the embossing, as well as the bottle style, was changed (same style,only fatter). Info courtesy of Don Fadely's Hair Raising Stories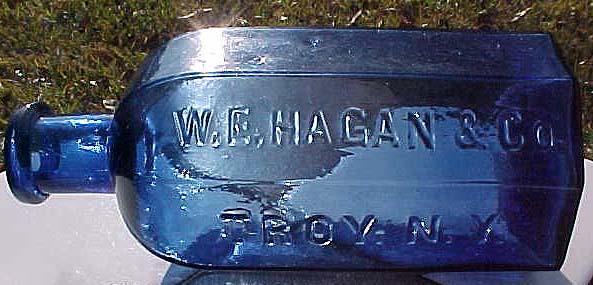 ---
Links to other sites about Hair bottles:
---
This web page hosted by Antique Bottle Collectors Haven