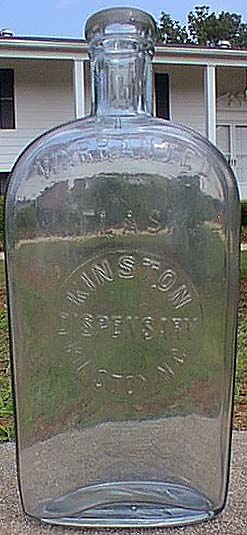 NC Dispensary Flasks

In 1904, North Carolina allowed its people in each county to vote on the Volstead Act, which was similar to South Carolina which had gone to a dispensary system years earlier. Motivation was that men were getting their pay check on Friday and drinking it up in the bars/saloons before they got home. The Volstead Act allowed the people to vote on one of three things: 1) leave everything the way it was, 2) one central location in the city or the county to have a liquor store, and 3) do away with liquor and become a dry county. Some counties like Wake for one place - the Raleigh Dispensary. Johnson county voted for dispensaries in different towns like Selma, Smithfield, Clayton, and Pine Level. Cumberland county (Fayetteville) voted for a single county dispensary. Towns like Charlotte kept saloons.
Not sure when the dispensary system was done away with, but there are no known ABM NC dispensary bottles (i.e. all were BIM).
Alphabetical list of towns/counties in NC that had dispensary bottles: Catawba Valley, Clayton, Cumberland, Eureka, Fremont, Goldsboro (J.W. Edwards), Greenville, Henderson, Jackson, Kinston, Louisburg, Lucama, Pine Level, Raleigh, Roxboro, Seaboard, Selma, Smithfield, Statesville, Toisnot, Vanceboro, Warrenton, Waynesville, Wilson, Windsor, Winston.
Know of one not on the list? Let me know.
---
Links to more info about NC Dispensary Flasks:
NC Dispensary Hall of Fame where you can see PICs of some of the best bottles.

Search ebay for NC Dispensary
---
This web page hosted by Antique Bottle Collectors Haven