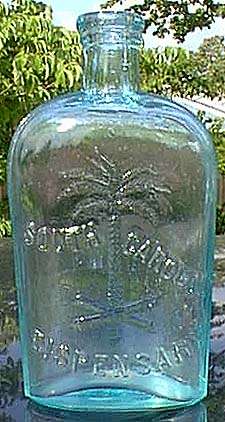 SC Dispensary Bottles

The S.C. Dispensary was the brainchild of Mr. Ben Tillman, govenor of SC. The dispensary started operation in Edgefield, S.C. in 1893. It was an unsuccessful business venture that was abolished in 1907.
S.C. Dispensary bottles came in various shapes and sizes which can be grouped into four catagories: half pints, pints, quarts, and gallons. Two and four gallon crockery jugs are believed to be in existance. Most S.C Dispensary bottles were bought from other companies outside of S.C. Not until 1902 in Columbia when the Carolina Glass Company opened did they begin to produce thses bottles in S.C. The first bottles were embossed with a palmetto tree, which then later changed to a monogram. The bottles range in color from green or aqua, bluish tint, amber, and clear. Probably the most common S.C. Dispensary bottle is what is known as the Jo Jo flask - see PIC. S.C. monograms can be found on pint and half pint Jo Jo flasks and on quart cylinders. The most common glass makers marks found on thses bottles are E.P. Jr & CO.--- P. BROS. ---C.L.F.G.CO.---and C.G.CO. The most uncommon marks are DIXIE and OLEAN.
Info courtesy of Dennis Jenks, Email: denmai@mindspring.com
For the best reference on SC Dispensary bottles, try to obtain a copy of the out-of-print book "The South Carolina Dispensary" written by Phillip Kenneth Huggins. Copyright 1971.
Be careful of reproductions of the amber 1/2 pint.
---
Links to more info about SC Dispensary Bottles:
---
This web page hosted by Antique Bottle Collectors Haven