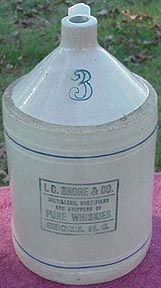 Shore NC Whiskey Distilleries

In Yadkin County of North Carolina during the 1890's and early 1900's, there were numerous distilleries in the Flint Hill community according to the Yadkin County Heritage book,published in 1981. Flint Hill was located between Enon and East Bend, North Carolina.
Some of these distilleries were
Shore & Steelman
Riverside Liquor Co.
I.C. Shore & Co.
Renigar Liquor Co.
Valley Liquor Co.
Gough & Renegar
Phillips Liquor Co.
Yadkin Valley Distilling Co.
In 1903, North Carolina passed a law requiring distilleries to incorporate, name their town, assign a post office, choose a mayor and alderman, and write their bylaws and ordinances. Otherwise, they would be forced to go out of business.

Four of these distilleries incorporate into the township of Shore, NC:
The Valley Liquor Co.
Riverside Mfg. Co.
Yadkin Valley Distilling Co.
I.C.Shore & Co
There was a lot of local opposition to whiskey making in this area after a few years, so the I.C. Shore and Yadkin Valley distilleries opened an additional plant in Rocky Mount, NC. The Riverside Mfg Co also opened another plant in Fremont, NC.

NC Prohibition became law on January 1, 1909. The I.C. Shore distillery moved to Petersburg VA and remained there until Virginia prohition in 1916. Shore then moved to Jacksonville, FL. They are listed in the Jacksonville city directory in 1917 at 722 West Bay Street.

Below are some pictures of jugs and advertising from distilleries in the Shore NC area. All pics are courtesy of Corky Shore. For more info (including appraisals) about Shore jugs, contact Corky at:
Clarence "Corky" Shore
6975 Shallowford Rd.
Lewisville, NC 27023
(336) 945-5807
Email: shorejugs@yahoo.com
| | |
| --- | --- |
| 4 gallon I.C. Shore jug | Valley Liquor post card |
| Half gallon Yadkin Valley jug | Another Valley Liquor post card |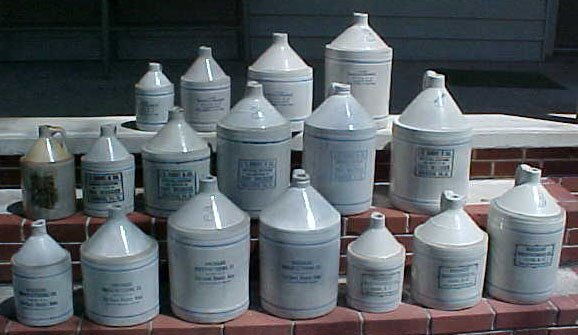 Collection of jugs from Shore NC.
---
This web page hosted by Antique Bottle Collectors Haven