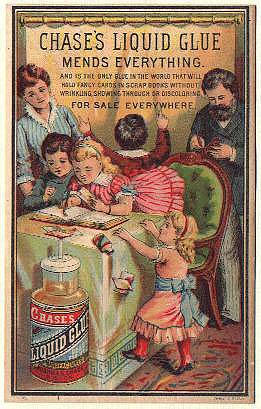 Victorian Trade Cards

A tradecard is about the size of a 3x5 index card and typically has a nice picture with advertising slogan on the front side, and full advertising text (and sometimes testimonials) on the back side. They were popular between 1880-1900 time period of the Victorian era. Local merchants and street walkers would hand them out for free as a cheap and effective way to advertise products and services. A local store would sometimes stamp their name on the back.
Some trade cards were beautiful, some funny, some had puzzles, and some were risque. People would collect the many different cards that appealed to them and paste them into scrap books, as shown in photo to the right.
Tradecards are a great way to see the advertising, history, and culture which accompanied the proclaimed product/service. Many products sold in bottles used tradecards to promote the product.
Trade cards can be classified into two types:
stock: these cards were generic in that they could be applied to any product. The backs were typically blank so they could be printed by the advertiser. And there was usually a blank box on the front for the advertiser to print as well. You run across the same stock card being used by multiple advertisers.
custom: produced by/for specific companies who, as a rule, did not share their designs with other firms. These cards often picture the product being advertised.
This great info provided on tradecards was provide by the avid Ayer's collector db2937@aol.com: In the late 1800's and early 1900's thousands of different trade cards were produced for the American public, from many types of manufacturers. These were mainly chromo lithographic instead of engraved, and because of the coloring they became highly desirable and many ladies started to collect them. The reason why we have so many examples of Victorian trade cards today is because these ladies saved them by putting them in albums. Many times they were trimmed or cut into shapes. Most of the cards, but not all had printing on the backs that described the individual product or service. These cards were kept in the albums by a couple of different methods. The most common was to glue them in, therefore it is not unusual to find some glue residue on the backs. The most desirable method was to be place in corner frames that allowed the collector to remove the card from the album and view the back if so desired. These cards have become a testament to our American history and are becoming more collectible as the years go by. Almost every type of product or service imaginable was advertised in this way, however, trade cards for Patent Medicines and various other practitioners such as Physicians, Dentists and Optometrists are among the most sought after.
---
Places to find more info about Victorian Trade Cards:
---
This web page is hosted by Antique Bottle Collectors Haven