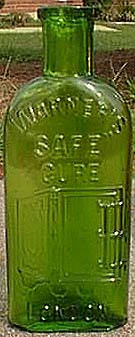 Antique Warner's Safe Bottles

The Warner's bottles are some of the most beautiful and desired bottles. While some bottle collecting books lump Warner's bottles in with Medicines and/or Cures, these bottles are special enough to justify their own category.
Warner was originally a safe manufacturer. To help prevent copies of his medicines, he embossed his copyrighted design of a safe on all the Warner's Safe products.
Some of the products put out in bottles by Warner's were:
WARNER'S SAFE KIDNEY & LIVER CURE is one of the most common bottles and was only made in Rochester, N.Y. Most of the safes are hinged on the right, but a rarer variant is hinged on the left.
WARNER'S SAFE CURE
WARNER'S SAFE NERVINE Example at top right of this page
WARNER'S SAFE DIABETES CURE
WARNER'S SAFE RHEUMATIC CURE
WARNER'S SAFE BITTERS
H.H. WARNER TIPPECANOE which is a cylindrical bottle with embossed canoe and tree bark. The Tippecanoe bottles were either a Bitters (rare) or Tonic (common) - bottle has to have the original label to tell for sure.
LOG CABIN PILLS
LOG CABIN EXTRACT Labeled Example
LOG CABIN SARSAPARILLA
After the Food and Drug Act of 1906, Warner's was forced to change the word "CURE" to "REMEDY".

There are also reproductions of the Warner's bottle: check the Reproduction site.
---
Links to other sites about Antique Warner's Bottles:
---
This web page hosted by Antique Bottle Collectors Haven