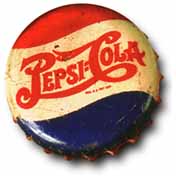 Antique Pepsi Bottles

Pepsi started in New Bern, NC in 1898 as Brad's Drink, but changed its name to "Pepsi-Cola" in 1903. A few early Pepsi bottles (before 1907) were made of amber glass, but be careful of the 75th anniversary reproduction bottle from New Bern, NC which is amber and came with a paper label and whittled neck. Here's a photo of this repro. Best way to tell it's a repro is that an unused crown top will not fit since the diameter of the repro neck is a little larger than the original (some/all of these repros are marked with "A204" on the base). Another way to distinguish the amber Pepsi repro is that they are light enough to read a newspaper through - the originals are too dark to read through.
Be careful of Pepsi bottles with a deep purple color. Purple is not a natural color and is caused by irradiating clear bottles. However, these purple bottles do make a nice color addition to your collection. There are some naturally occuring bottles with a light amethyst/purple tint - leaving them out in prolonged sunlight will darken the tint (but they will never become a deep purple).
The words "Pepsi" and "Cola" were separated by two dashes (called double dot) until 1951 when the modern logo with a single dash was introduced.
---
Links to other Pepsi sites:
---
This web page hosted by Antique Bottle Collectors Haven