Glenn Poch's Bottle Collecting Newsletter 17
Bottle Newsletter #17
May/Jun 1997

ABCNI SHOW - May 4, 1997
It was a good show with many items to be found for collectors, a great hospitality auction was filled with people and food,and good bottles to be sold at auction. Some of the items in the hospitality auction were Dr. Bells Bitters, Eagle Cornicopia Flask, Early Brandy etched decanter (these first three went home with me), Large gallon cathederial pickle bottle in CLEAR, Dr.Townsends - Olive, Multi color large toilet water, good signs and bottles from most all categorie. The show had about 45 tables and many dealers reported best sales ever. Plan on attending next year our Antique Bottle Club of Northern Illinois Show, the first week in May (however next year may be the first time ever we change the date).
---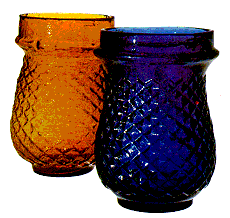 CHRISTMAS-TREE LIGHTS (Victorian Lamps)
From 1800 to 1880 or so thousands upon thousands of these colorful items were produced in England, and America. They were made of glass and most were round with a diamond pattern molded on them. It is believed that they were placed on Christmas Tree branches, here candles were placed within and lit, needless to say a major fire hazard in those days. Their use on trees is not documented, but many have been found with candle wax still intact, one account from the West Indies suggests that they were used in theaters as footlights, and I have read about their use in parades and outdoor events (being strung on a line of string to line the streets). The oldest Lights date from the 1800-1820 period and are pontiled, there is some debate if H.W. Stiegel produced any of these lights that are often attributed as Steigel lights, most are of English origin. They come in numerous colors, all shades of Blue, Green, Amber, Aqua, Clear, Purple, Milk Glass and some Ruby.

Patterns may be vertical or swirled ribs or irregular diamonds usually with a ring below the plain rim, they range in size from 2 3/4" - 4". Besides the various pattern molded examples, there are a few figural examples with the face of queen Elizabeth and some other English rulers, a number of patterned bump examples have also been found. They are quite affordable as the common examples can be found in most colors for $10-30, with rare figural examples selling in the several hundred dollar range. They are a best bet for price value considering their age, color and history.
---
"WHEATON GLASS" THE COLLECTIBLE OF TODAY AND TOMORROW
IN 1888 DR.THEODORE WHEATON STARTED GLASS MAKING WITH A HANDFUL OF MEN AND A ONE BUILDING FACTORY IN MILLVILLE, NEW JERSEY. OVER THE YEARS WHEATON INDUSTRIES GREW INTO A WORLD CLASS ORGANIZATION MAKING MANY DIFFERENT TYPES OF CONTAINERS FOR THE GLASS INDUSTRY, (INCLUDING AVON, SHULTON & LIQUOR DECANTERS). FROM 1967 TO 1975 WHEATON INDUSTRIES PRODUCED VARIOUS DECANTERS, FLASKS AND BOTTLES FOR THE COLLECTIBLE MARKET. THE FIRST LARGE DECANTER ISSUED WAS TO COMMEMORATE PRESIDENT JOHN F. KENNEDY. THIS DECANTER WAS AN IMMEDIATE SUCCESS WITH COLLECTORS AND THE RESALE, PRICE WENT OVER $100. DURING THIS PERIOD THEY ISSUED 20 OTHER LARGE PRESIDENTIAL DECANTERS. THESE WERE SO SUCCESSFUL THAT THEY EXPANDED THE COLLECTIBLE SERIES TO INCLUDE OTHER COMMEMORATIVES INCLUDING GREAT AMERICANS, EVANGELIST, APOLLO SPACE FLIGHTS, MOVIE STARS, POLITICAL CAMPAIGN AND CHRISTMAS. THE SERIES ALSO INCLUDED 36 MINI-PRESIDENTIAL DECANTERS ONLY 3 INCHES TALL FOR THE COLLECTOR WITH LIMITED SPACE AND BUDGET. THEY WERE SOLD IN INDIVIDUAL PACKS AND IN 3 SERIES OF 12 EACH IN A DISPLAY BOX SHAPED LIKE THE WHITE HOUSE. TWELVE OF THE PRESIDENTIAL PORTRAIT ENGRAVINGS WERE USED TO MOLD 8 INCH PLATES IN LIGHT BLUE. A SPECIAL SERIES OF 4 PLATES WERE MADE USING BLACK GLASS WITH CARNIVAL FINISH TO COMMEMORATE ASSASSINATED PRESIDENTS A.LINCOLN, J.GARFIELD, W.MCKINLEY AND J.F.KENNEDY. OTHER PLATES WERE MADE IN SEVERAL COLORS FOR SOME OF THE GREAT AMERICAN AND SPACE FLIGHT SERIES.

DURING THE SAME PERIOD WHEATON PRODUCED A SERIES OF ANTIQUE BOTTLE REPRODUCTIONS IN AN AMERICANA HISTORICAL THEME. THESE ARE MODERN REPLICAS OF DECANTERS, BOTTLES, BANKS AND INK WELIS USED BY PATRIOTS OF THE EARLY AMERICAN PERIOD. THESE BOTTLES ARE BEING USED MAINLY FOR HOME AND BUSINESS INTERIOR DECORATIONS REQUIRING VARIOUS COLORS AND SHAPES TO COMPLIMENT ALL TYPES OF ROOM SETTINGS WITHOUT THE EXPENSE OF USING GENUINE ANTIQUE GLASS BOTTLES.

IN 1976 PRODUCTION OF THE COLLECTIBLE SERIES WAS TURNED OVER TO THE WHEATON HISTORICAL ASSOCIATION TO CONTINUE THE LARGE PRESIDENTIAL AND CHRISTMAS SERIES. THE PRESIDENTIAL SERIES WAS CONTINUED UNTIL THE GEORGE BUSH DECANTER WAS ISSUED. THE CHRISTMAS THEME SERIES WAS CONTINUED THROUGH 1991. THESE BOTTLES WERE HAND MADE BY MILLVILLE ART GLASS, HOLLY CITY GLASS AND WHEATON VILLAGE IN LIMITED QUANTITIES (A MAXIMUM OF 5000 EACH). THEY WERE ALL DESIGNED AND HAND MADE BY THE SAME ARTISTS AS THE INITIAL BOTTLES IN EACH SERIES.

EVEN THOUGH THE ORIGINAL WHEATON COLLECTIBLE ITEMS HAVE NOT BEEN MADE FOR YEARS, GLASS CREATIONS ARE BEING HAND MADE AT THE AUTHENTIC OPERATING GLASS FURNACE LOCATED AT THE WHEATON VILLAGE IN MILLVILLE N.J. IF YOU ARE INTERESTED IN SEEING HOW GLASS IS MADE THEY HAVE DEMONSTRATIONS OPEN TO THE PUBLIC. THERE ARE STILL A FEW OF THE ORIGINAL WHEATON DECANTERS AVAILABLE IN THE VILLAGE GLASS SHOP. THE CLASSIC WHEATON CLUB WAS FORMED IN 1995 TO PRESERVE AND PROMOTE THE APPRECIATION OF ORIGINAL WORKS OF ART AND UNIQUE REPRODUCTIONS, CRAFTED IN GLASS BY WHEATON. FOR CLUB INFORMATION CONTACT:
CLASSIC WHEATON CLUB
PO BOX 59
DOWNINGTOWN, PA 19335
OR CALL 610-692-4474
---
"He Sure enjoyed his drink"
It was a warm summers day on the mountains of Colorado, the hills were ripe with bottles to be found and we knew just the people who were looking for them. Out with probe and shovel we headed towards the lands that were calling out for us to dig em'. We picked a site where upon the original house still stood, miners they were, rusted granite-ware and pails still scattered upon the earth from decades ago, raspberry bushes planted moons ago were still growing wild around the house. The back of the house had a large pile of wood, a privy? Upon some closer examination we realized it was too much wood and must of been a shed. Towards the other side of the house another smaller pile of wood, ah yes this time a two holer seat could be found within the rubble, a privy indeed. My diggin' partner and me began to probe near the wood with little luck. About 5 feet from the wood (closer to the house) the probe sank into the earth and there was little doubt this was the area that needed unearthing. We staked out the area and began the dig, shovel after shovel full of dirt until we hit our first bottle about two feet down, unfortunately it was a screw top dated from the 30's or 40's whiskey most likely. We found a number of other bottles at this level as well, all about the same age, we tossed them aside and continued downward. The privy seemed to be teasing us, two more feet of dirt gone and no signs of anything. Another foot and a half and still nothing except an abundance of Raspberry Seeds. At around this time my partner felt it was time to pack up and go home, as the privies were usually bare and shallow in this area. My persistence told me to continue, they were down there I knew it, and sure enough another few scoops down and the first bottle popped out. It was an odd one, the first thing I did was look at the neck of the bottle, it was older 1890's era, and quite a bit of embossing. The embossings read Dr. Fowlers on front with the two sides Health, Strength, and the bottom read Vigor (a bottom embossed word? odd!) and I had never seen one before (who knew what else this pit held for us?). Another scoop another Dr. Fowlers, broken - what luck -, but this did not discourage us, we then found another Fowlers whole and intact a few scoops under. We had hit the bottom of the pit as it was lined with a large stone bottom. The sides around the bottom yielded numerous Dr.Fowlers Bottles about 12 whole ones and another 15 broken, including some other variants on this unique bottle. Some of the slimmer, taller medicine shaped bottles were embossed with Dr.Fowlers, Moodus, Ct. The prize of the day a small round bottle the just said Prof. Fowler, Moodus, Ct. (most likely a sample). If this guy wasn't Dr. Fowler he sure enjoyed drinking the stuff, or just enjoyed his sales pitch on the soap box. As of today I have only seen the taller medicine type bottle at the Salt Lake City, Utah Bottle Show. Needless to say the other two bottle types can not be found in any reference source that I've searched. So it just goes to show a privy ain't done till its done!

Glenn Poch, Email: pochg@phl.alibrary.com
---
Digging Story
I am a digger and bottle collector/treasure hunter. I am from Bay City, Michigan. I too know what you mean about getting dirty looks from people when I am out scouting around. We have a section of river here that is always a hot spot for old bottles. I am the only one that ever hunts this area, in fact I don't even know of any other collectors in this town that still dig. Anyway, this river is always blown out in the fall and spring on several occasions. There is a small island 50 feet off shore behind the former location of two breweries(which closed there doors back in the 30's and 40's) The island is only about 200 feet by 200 feet. When the water blows out you can walk all the way out to the channel if you wanted too. I have found many rare bottles from this town on or near this island. In the mud I dig a little and probe a little and the bottles just float up.

I have also found many broken bottles there too. Maybe from the ice or frost. I have not yet had a chance to dig right on the island, but I know it will be a good spot. I have seen a picture taken from across the river of the island back in the mid 1800's and it shows the island with shantys on it and the island is almost flat. Today it is several feet higher.

The funny thing is that they built a river walk park next to my hunting grounds. Many people visit this place and it is funny to see the look on there faces when I put on my boots and grab my shovel and go to work.

Well I have to go, I hope you find my story interesting. If you find any bottles from Bay City Michigan, or if you are looking for anything let me know.

Brian E. Miska, Email: ELWOOD1@concentric.net
---
Another Digging Story
Not only do I dig extensively, I also buy collections when I can. In some of the collections, I turn up attic mint bottles. We do professionally clean some of our better dug finds, just about everyone around here does now.

As a bottle enthusiast, I am constantly giving thanks for my good fortune to be located in New Jersey. As we like to say around these parts "if you can't find bottles here, you can't find bottles". Any weekend that we go out, we are apt to find anything from open pontilled medicines to machine made milk bottles. My two digging partners and myself were in a patch of "dug out" woods on Saturday and brought home 20+ mold blown embossed medicines, 1 amber POISON, 1 acid etched Seltzer bottle and a five gallon stoneware crock from Ohio.

We also dig in New York City and Philadelphia where it is a rarity not to find at least 1 pontil colored soda. In 1 pit we dug in Philly last summer, we found 15 colored sodas, 3 marked stoneware beer bottles, 1 Pine Tree Cordial and an assortment of other pontil stuff. Most of the sodas were common Philadelphias $40-50 range but we did find a blue 10 panelled iron pontil Heiss Mineral Water (worth about $500) and an amber iron pontil G.A. Kohl, from Lambertville, N.J. (was offered $2000 for that one). My friend dug a large size DP Skull and Crossbones Poison near here three years ago (he sold it cheap for $3000).

Ernest Bower, Email: XRdsRev@aol.com
---
Online Bottle Bookstore
I have a new website, its the first online bookstore dedicated exclusively to out of print bottle collecting books. It is called the Bottle Collectors Bookshelf, and has links from Reggies page, The Federation page, and is listed with over 250 search engines. I have a nice selection of about 25 titles, some common, some hard to find.
---
WANTED/FOR SALE ADS
Looking for any information which you may have on Turlingtons. I have several sources but I really need more specifics if they are available. I am interested in English Turlingtons, larger sized bottles, flint glass and the infamous 1750 bottle

Walter DeVault, Email: wdevault@com1.med.usf.edu
---
I am not a collector, but hope you can help me. I have a good friend who was born and raised in Chicago. His grandfather owned "C.Carlson's Dairy" which I think operated in the 30's (that's a guess.) I would love to find a bottle from that dairy for a gift.

Tom Bates, Email: bates@midusa.net
---
Interested in inkwells as well as master inks. not interested in round or cone shaped ink wells, but like unique shapes-boat, igloo, schoolhouse, etc. if there's anyone that has these in the $15 to $50 dollar price range let me know.

thanks ... jmoffitt, Email: JERMOFFITT@aol.com
---
NEW JERSEY BOTTLES WANTED

Seeking pre 1915 New Jersey Beer, Soda and Mineral Water Bottles for my collection. Squats, Pony's, Blobs, Hutch's, Hand Crowns and Patent Closures. Any town, any county, any color, if it's something I don't have. From the common to the obscure, one piece or an entire collection (please, no machine made bottles). Damaged pieces are acceptable if they unusual and priced accordingly. Also looking for pre 1919 NJ bottlers labels, photos and ephemera, again from anywhere in the state. NJ pontil medicines (especially want R. Edwards, Raritan, NJ), later NJ Cures, unusual medicines, colored pharmacies or sarsaparilla's are also in my field. I am also a buyer of New jersey script, stencil and stamped jugs and decorated NJ stoneware (no Fulper though). Thanks, if you have something, feel free to contact me. Ernest Bower, P.O. Box 348, Bound Brook, N.J. 08805 or E-mail at XRdsRev@aol.com
---
Looking for the following:
DR BAKERS PAIN PANACEA
DR ROGERS LIVERWORT AND TAR
DR ROGERS WORM SYRUP
DR SCOVILLS SARSAPARILLA AND STILLINGIA OR BLOOD AND LIVER SYRUP
DR ROGERS INDIAN FEVER CURE
DR MOTTS VEGETABLE LIVER PILLS
DR ROGERS COMPOUND SYRUP OF LIVERWORT TAR AND CANCHOLAGUA
DR GUYSOTTS IMPROVED EXTRACT YELLOW DOCK AND SARSAPARILLA
SCOVILLS COMP SYRUP SARSAP AND STILLINGIA
JONES AMARICAN CHOLAGOGUE
CHRISTIES AGUE BALSAM
Di Lewis, Email: oldhome@dave-world.net
---
"WANTED: Blob top beers from any state with their original stoppers still attached. Particular interest in unusual stoppers or bottle colors.

Contact via Email: Skeetbeer@aol.com
---
Looking for (Texas) Peruna bottle. Might be bitters. Believe to be aqua and round like a beer with label. May not have embossing. Please advise if you have or know of one. Joe Murfin 819 Orleans Dr. Rogers, AR 72758 or Email: kwg@nwark.com
---
Wanted Bottles of all fine quality, Bitters, Inks, Flasks, Scents : particularly throw-away & seahorse scents, Figural Bitters, Whiskey Pigs, and rare inks. Email Glenn at pochg@phl.alibrary.com Thanks
---
Back to main page for Glenn Poch's Bottle Collecting Newsletter